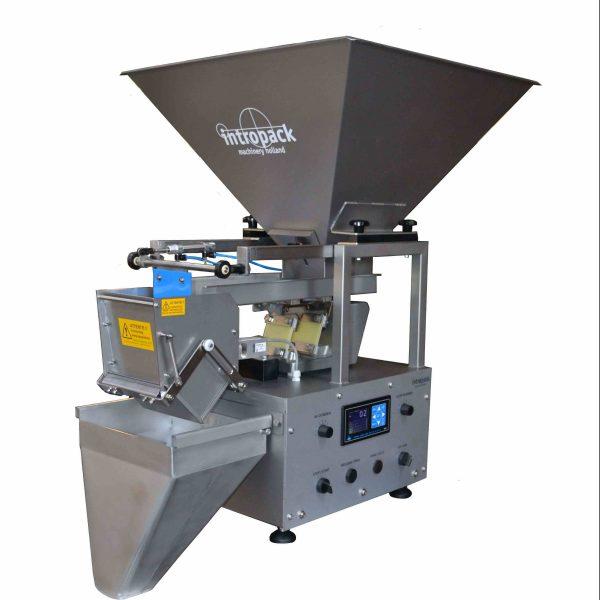 De perfecte weegmachine voor uw bedrijf
Bent u op zoek naar een industriële weegmachine die niet alleen snel en accuraat is, maar ook perfect past binnen uw productieproces en bovendien duurzaam en feilloos z'n werk doet? Dan staan de deskundige medewerkers van Intropack u graag met raad en daad bij. Met al meer dan een halve eeuw ervaring in verpakkingsmachines en weegmachines helpen we u graag de perfecte weegmachine te vinden voor uw bedrijf.
Weegmachine uit eigen productie
Om aan de vraag uit de industrie te voldoen ontwikkelden we met Galaxy een eigen lijn weegmachines, die perfect samenwerken met industriële verpakkingsmachines. Zo komt er zonder verspilling van product in elke verpakking de juiste hoeveelheid terecht. Poeders, granulaten, petfood, AGF, vlees, thee, bouwmaterialen, medische en cosmetische producten belanden allemaal perfect in de verpakking. Ook als u ongebruikelijke producten of specifieke wensen heeft, produceren wij desgewenst een gemodificeerde weegmachine die volledig aan uw eisen voldoet. Dat is het voordeel van een weegmachine uit eigen productie.
Een gebruikte of gereviseerde weegmachine
Naast een gloednieuwe Galaxy weegmachine, verkopen wij onder de naam Muskopak ook volledig gereviseerde gebruikte weegmachines of verpakkingsmachines van andere bekende merken. Ook voor losse onderdelen, revisie en reparatie van uw weegmachine kunt u bij onze vakkundige specialisten terecht. Ook het huren van een weegmachine behoort bij ons tot de mogelijkheden. De wensen van de klant staan bij ons nog steeds ouderwets voorop.
De service die u krijgt bij uw weegmachine
Bij Intropack nemen de medewerkers de tijd om naar uw wensen te luisteren en denken ze graag mee over welke weegmachine voor u de juiste oplossing biedt. Ook kunt u bij ons in Wormer langskomen voor een demonstratie van een weegmachine of meerdere verpakkingsmachines. Zo weet u van tevoren precies wat u koopt. Naast een weegmachine verkopen wij ook verpakkingsmachines, zoals de Polystar sealer, flowpackmachines, vulmachines, etiketteermachines. Kortom: alle machines die nodig zijn voor een vloeiend en feilloos inpakproces kunt u bij ons vinden.
Wilt u advies of meer informatie over een geschikte weegmachine, neem dan gerust contact met ons op. U kunt onze vriendelijke medewerkers bereiken via +31 (0)75 – 621 06 60 en info@intropack.com.